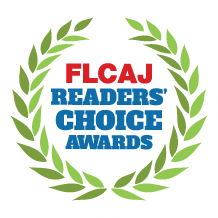 Thanks for your vote... We won!
Dear Greg and Mike,
Congratulations for being voted a FLCAJ Readers' Choice Award winner! In our third annual voting, 265 service providers were nominated, over 5,000 ballots were cast, and 75 service providers rose to the top.
You will be receiving recognition as a Gold Award winner in the Pools, Lakes and Parks category.
Your achievement will be formally announced in the Readers' Choice Awards special pullout section of our April issue. This issue will be read by over 50,000 Community Association Managers, Board Members, and Property Management Company Executives throughout Florida. We are proud to present your business as one of the "best of the best" in service to community associations!