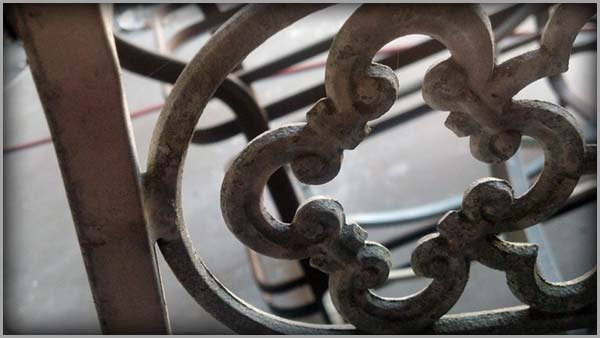 So you find your self here in the show room of a patio furniture store located on a Main
Street, USA, or you received a gorgeous looking catalog in the mail from a patio furniture
representative. The catalog has fancy type and glossy pictures and shows beautiful
chaise, chair and table designs. The product description mentions the furniture is made
from "cast aluminum". You wonder what that is, it looks solid, heavy, especially with a
price tag like that!!! Extreme to say the least, must be excellent quality right?
So you ask yourself, "What is cast aluminum?"
To be called cast aluminum, this product must have at least 50% aluminum so most
manufacturer's use 50% to 60% with the highest end cast having 75% aluminum but
the higher end cast aluminum costs almost twice as much as the lower end cast. Cast
aluminum is made by melting pure aluminum with scrap tin and steel and then poured in
to one of two kinds of molds.
Low end cast uses sand base molds and high end cast uses steel base molds but both
methods create gas to stay inside the finished product which is why the powder coat
paint or liquid paint will start peeling off within a few years as it causes the aluminum
to oxidize very quickly creating a white type of aluminum rust which causes the paint to
peel off like a candy wrapper.
The furniture is usually cast in a 3D type of cast which can be very uncomfortable to sit
in and price point on cast furniture is over priced to say the least. Weight is also a big
factor since cast aluminum furniture is extremely heavy to lug around and can easily dig
up beautiful pool decks.
How does cast aluminum differ from 100% extruded aluminum one might ask?
Well for one,100% extruded aluminum is exactly that… pure aluminum! No fillers, no
junk metal. Extruded aluminum does not suffer the same fate as cast due to it being
100% pure aluminum and is much stronger than cast with a high tensile strength. If a
vandal throws a cast chair across the patio deck there is a real good chance the chair
will shatter in the same fashion as a clay pot however, if the same thing is done to a all
extruded chair it will only scratch up the powder coat or paint job which can be fixed with
a $5.00 can of touch up paint and the cast chair would need to be re-welded leaving
unsightly expensive repair lines on it and it would need to be completely refinished to be
used again if it was even in any shape to repair at that.
Many manufacturers claim they will warranty their cast, but when the paint starts peeling
and the customer contacts them the customer is required to pay the freight to ship it
to them and pay to get it back making the cost of repairs many times higher than what
they paid for it to begin with but normally they only find this out when they try to get the
warranty work done.
So when deciding to purchase a Cast Aluminum product try and find an extruded line
of furniture that looks comparable to the cast as you will not regret it and if you must
purchase the cast ask in writing for at least a 5 year unconditional warranty on the paint
job freight included as that is the warranty that comes with most extruded lines due to
they're confidence in their product.
---
Karen Shultes has been with Florida Patio Furniture, Inc. for 9 years now as their factory direct rep.  In that time she has focused on increasing marketing to enhance customer awareness & product knowledge.  She had been instrumental in helping commercial and residential customers alike make educated decisions on cost effective purchasing of buying patio furniture that reflect comfort, longevity of product and safely with regards to liability issues.  She visits commercial properties to give free on site quotes as the factory direct rep for Florida Patio Furniture, Inc. She focuses on client education, preserving the fantastic service and reputation of the company.